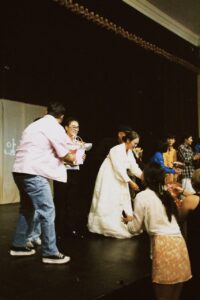 "Our time does not stop" – is the title of the performance that took place on our stage today. This is a joint project with the theater troupe of the Performing Arts Center of Chuncheon–Namdo Province, Republic of Korea, within the framework of cultural exchange. A historical musical about the independence movement during Japanese colonization.
Thinking about it, while watching, you feel with all your senses that this very "time" has its own shape, its own color, and most importantly, its voice. Pure and incredibly diverse.
So the repertoire of the month of June in the theater imperceptibly stands out precisely by the historical agenda. The Day of Remembrance of the Victims of Political Repression, which took place not so long ago, makes us think about important things, about the value of the life of every Person, Citizen, loyalty and preservation of history. The Korean theater honors and tries to convey this heritage, in the most accessible and skillful form – theatrical action.
We thank you, the viewer, for the unity and time together.
With love, your Korean theater.