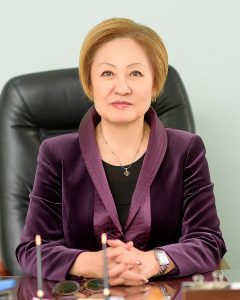 Today in the capital of our country a congress of the Nur Otan party was held, chaired by the Leader of the Nation and First President Nursultan Abishevich Nazarbayev.
During the party congress, it was decided to nominate the current President of the Republic of Kazakhstan, Kassym-Jomart Tokayev, for the upcoming early presidential elections.
The chairman of the Nur Otan party, Nursultan Abishevich Nazarbayev, spoke in support of the candidate, saying that he "completely trusts" Tokayev, urging fellow party members and Kazakhstanis to support him in the upcoming elections.
The collective of the State Republican Academic Korean Theater of Musical Comedy unanimously supports the decision of the Extraordinary XIX Congress of the Nur Otan Party.
Nee Lyubov Avgustovna – director of the theater, Honored Worker of the Republic of Kazakhstan, holder of the II degree Dostyk Order, member of the Assembly of the People of Kazakhstan, vice president of the Association of Theaters of Kazakhstan.